Every small or big organization across the globe will agree to the fact that customer service is the key to long-term business sustainability and success.
In fact, a business management study reveals that good consumer service is a top decision making factor by 96% of consumers as it breeds their loyalty towards a brand. With this, 49% of American customers switch to a rival brand because the existing brand offers below-average customer service (according to HubSpot).
When consumers were asked about what they prefer for customer support, 42% mentioned live chat.
Considering these mind-blowing, it wouldn't be wrong to say that organizations should be updated with the latest customer service trends and online tools that can assist them in fulfilling their customer service goals.
There's no doubt that hyper-automation boosts the high level of automation for businesses, which in turn increases efficiency and effectiveness. Therefore, it is important for businesses to look out for online customer service tools that can ease their burden and enhance customer satisfaction.
Five best online tools to uplift customer service interaction in 2021 
Here's a list of the top-rated online customer service interaction tools that you can use and uplift your client satisfaction score in 2021. 
LiveChat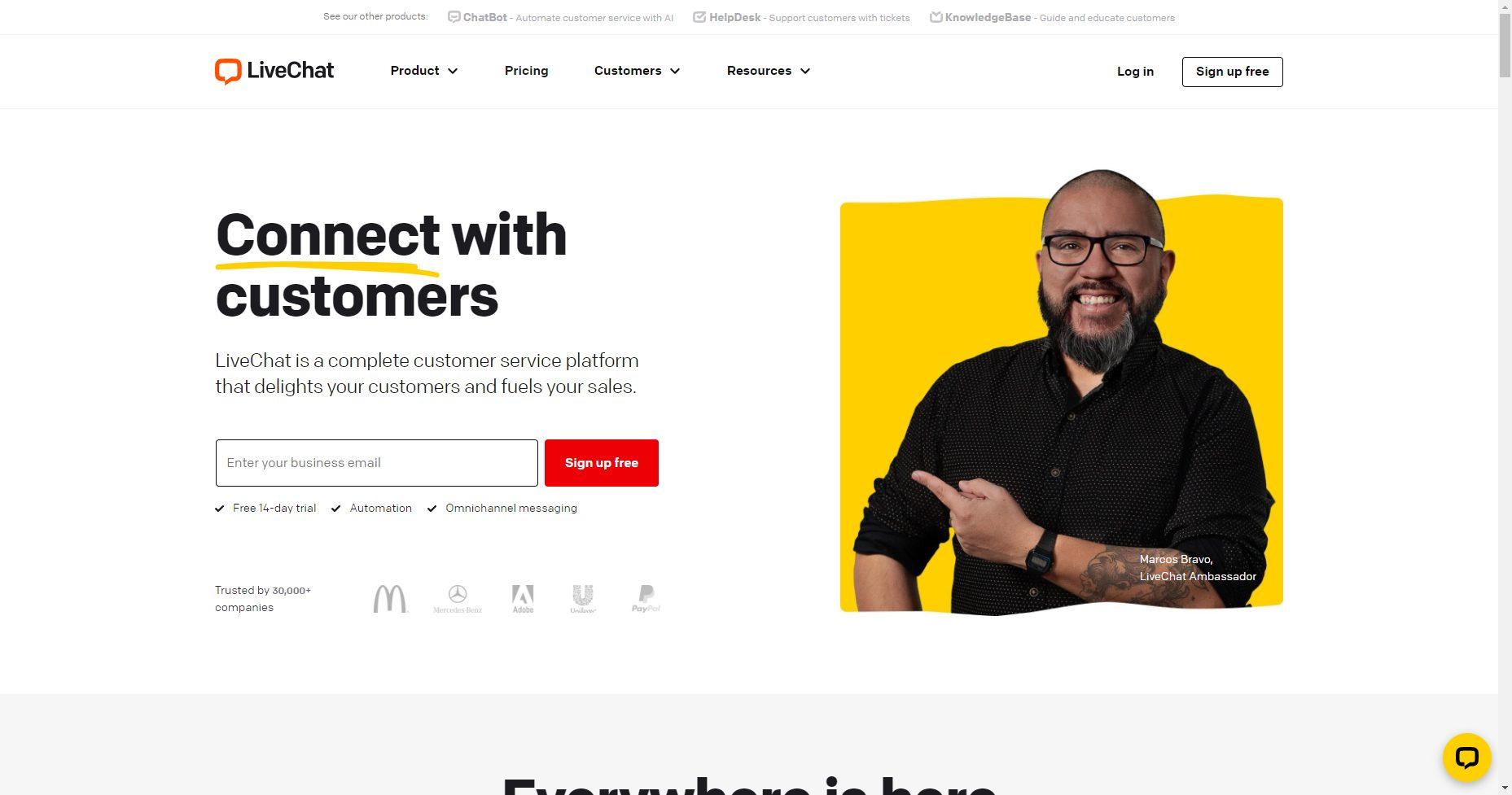 The online customer service tool that tops our list is LiveChat. It is online software that supports both sales teams and customers. With this single online tool, you can manage multiple communication channels such as SMS, email, and chat- all from a single dashboard.
Thus, it makes it easier for sales representatives to manage and share announcements, notifications, and messages and invite site visitors to join the chat.
Here are some key features of LiveChat:
The platform also features service bots that ensure 24/clock availability and handle simple interactions that don't require agents.
One of the reasons why you need to live chat is that it sends personalized messages based on the visitor's profile and behavior on the site.
Message sneak-peak displays what the user is typing before they send the send button, helping you reply quickly.
You can try eye-catchers to capture customer's attention.
Save responses of customers and reuse them when required.
Use Chat Boosters to encourage people to take action without talking to a customer service representative.
You can use the free trial or switch to the paid plan that ranges from $16 to $50 per month, depending on needs.
HubSpot service hub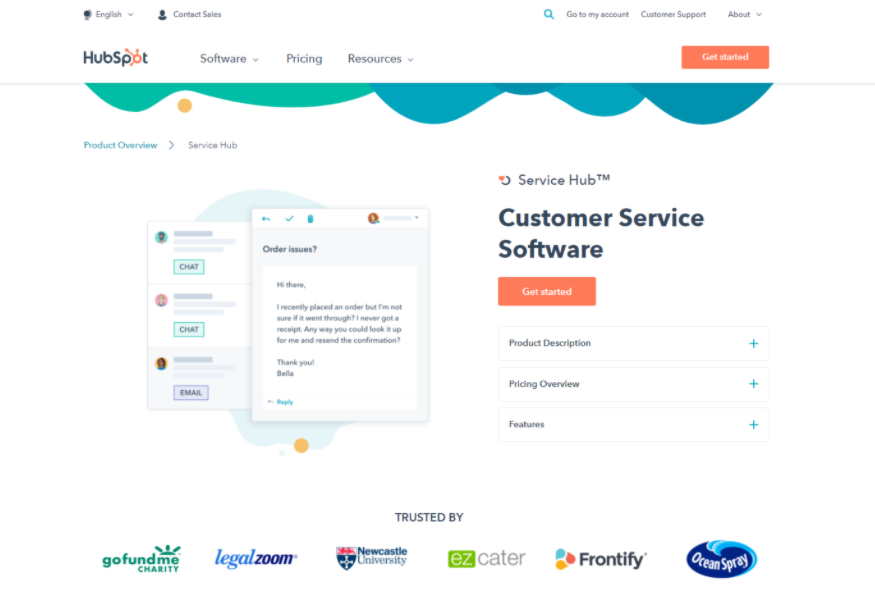 Number two on our list is HubSpot, a leading software company that emerged in 2006. Today, it has a client base of 68000 that uses award-winning solutions of this tech company and transformed the way they attract and excite customers.
HubSpot service hub is a complete front office service solution that can let companies see how customers are moving across the sales, service, and marketing. It is embedded with various communication tools, a deep knowledge base, surveys, reporting, and help desk automation.
Some key features include the following:
Its high technical specifications make it an ideal choice for small, medium, and large enterprises.
It uses the routing and ticket automation technique to prioritize important questions first.
It converts FAQs into a searchable library of help posts, documents, and videos.
Keep customers happy by engaging them in live and contextual conversations.
It comes with high integrity and lets you connect team email, Facebook messenger, and live chat for improved collaboration.
The pricing ranges from $45 to $1200 per month/
Zoho Desk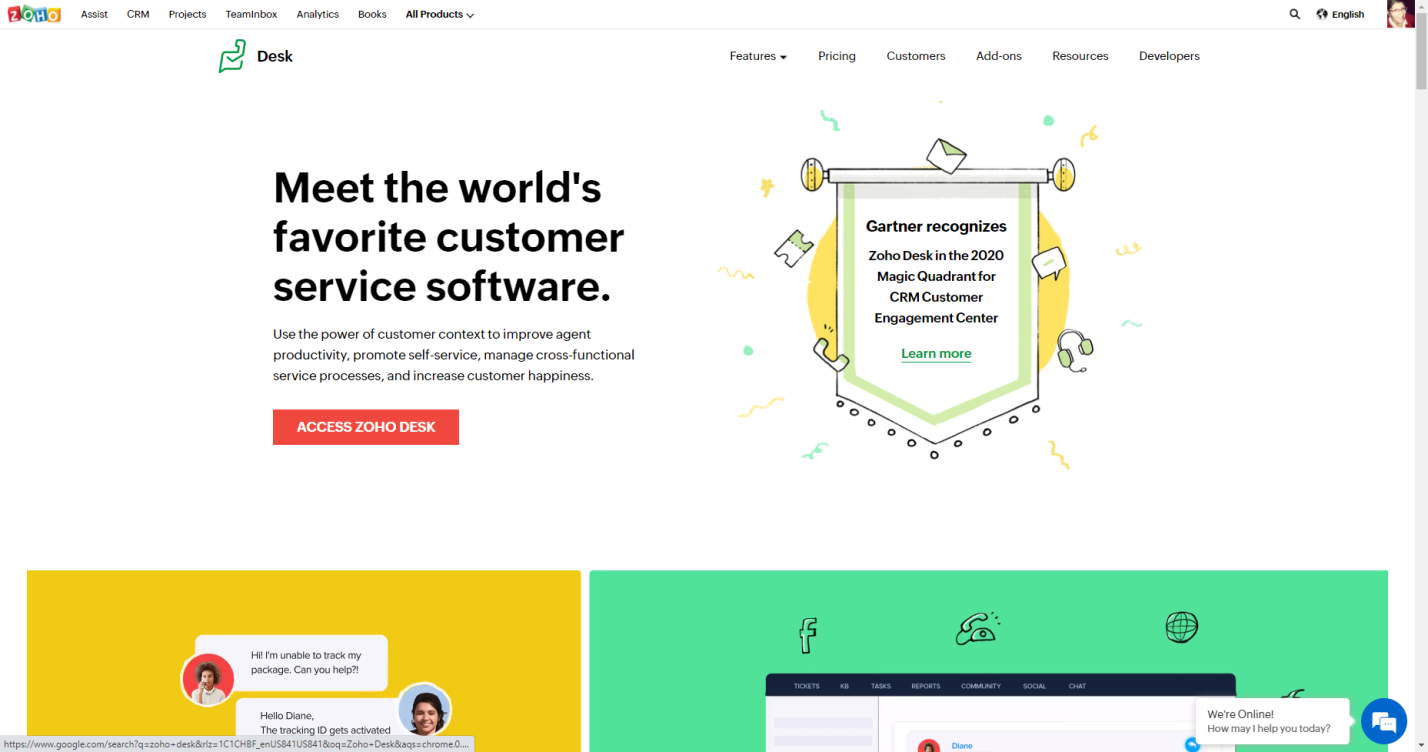 Next on this list is Zoho Desk, a help desk and IT support software popular among chat agents, managers, and consumers. It features customized tools for finance, sales, marketing, HR, accounting, business intelligence, and collaboration.
If you are looking for ways to support your customers through a pandemic, use a smart customer service tool that tirelessly provides answers to FAQs.
Some of the key features are as follows:
The platform provides you real-time reports, including average response and issue resolution time depending on the agent, channel, and date.
Let you automatically manage tickets across all communication channels.
Send responses using FAQs, past templates based on customer context.
Inform both agents and customers about the ticket progress.
Use contextual AI to find solutions quickly.
You can integrate Zoho Desk with a range of apps such as Zoho CRM, Zoho Reports, and Facebook to enhance capabilities.
A free trial version is available for a limited period. The price starts from $12–$35 per month.
Intercom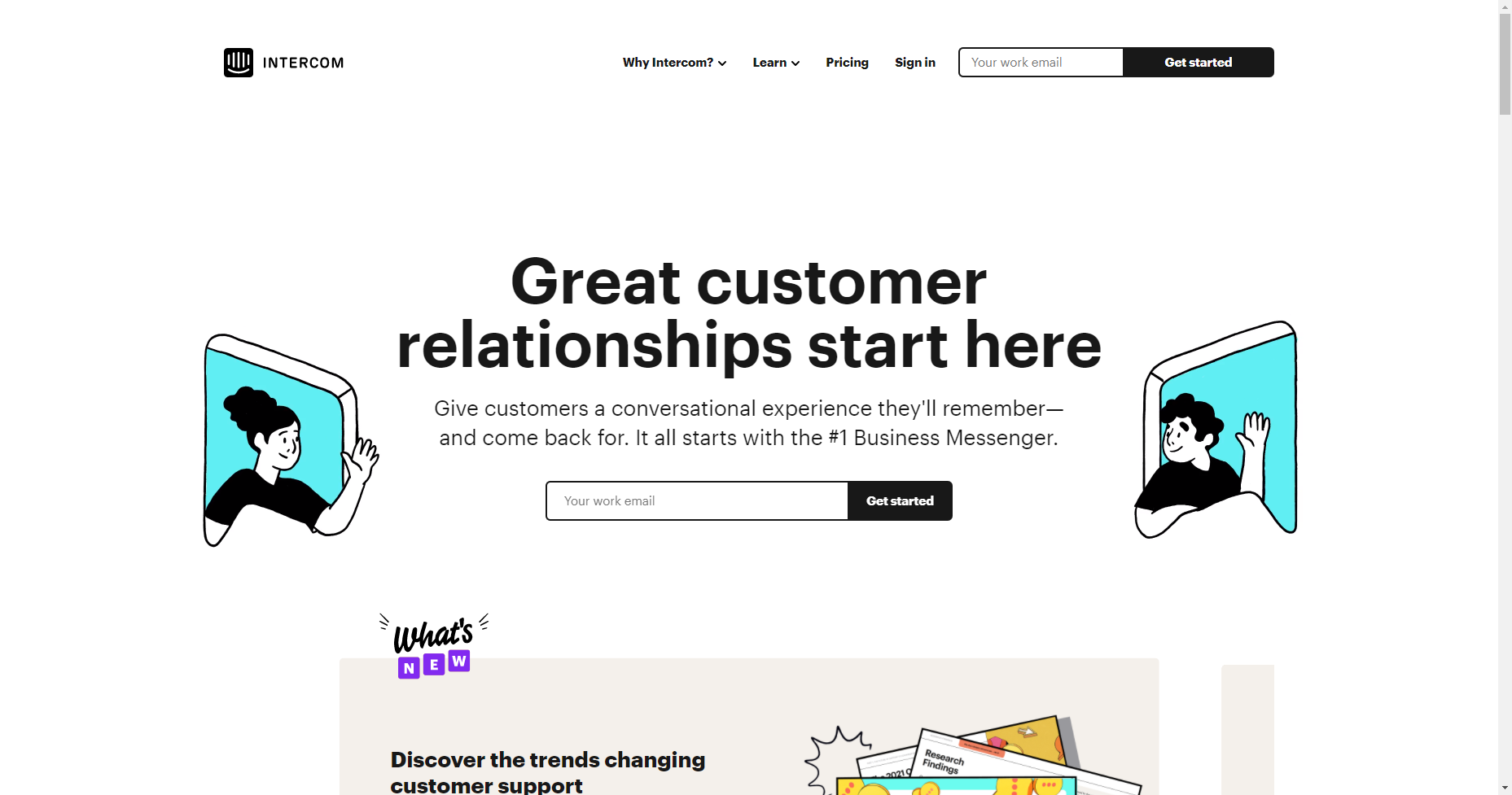 Looking for an elegant interface?
Try Intercom because it's easy-to-use chat platform and bot service can let you push customer engagement to the new levels. It comes with the advanced capabilities that let you resolve critical issues, scale conversational experiences, answer recurring questions quickly and proactively reaching out to potential customers.
Here are some key features of this amazing customer service platform.
You have the option to chat in real-time or take a follow up later.
It creates customized chat screens to engage and educate users. It also supports mobile users.
Chats can be automated with chatbots.
You can build interactive guides to ease the onboarding process.
Answer common questions with FAQs.
The starting price is $39 and can go up to $999 per month depending on your needs. But you can see the glimpse of the software by using its free trial version.
Zendesk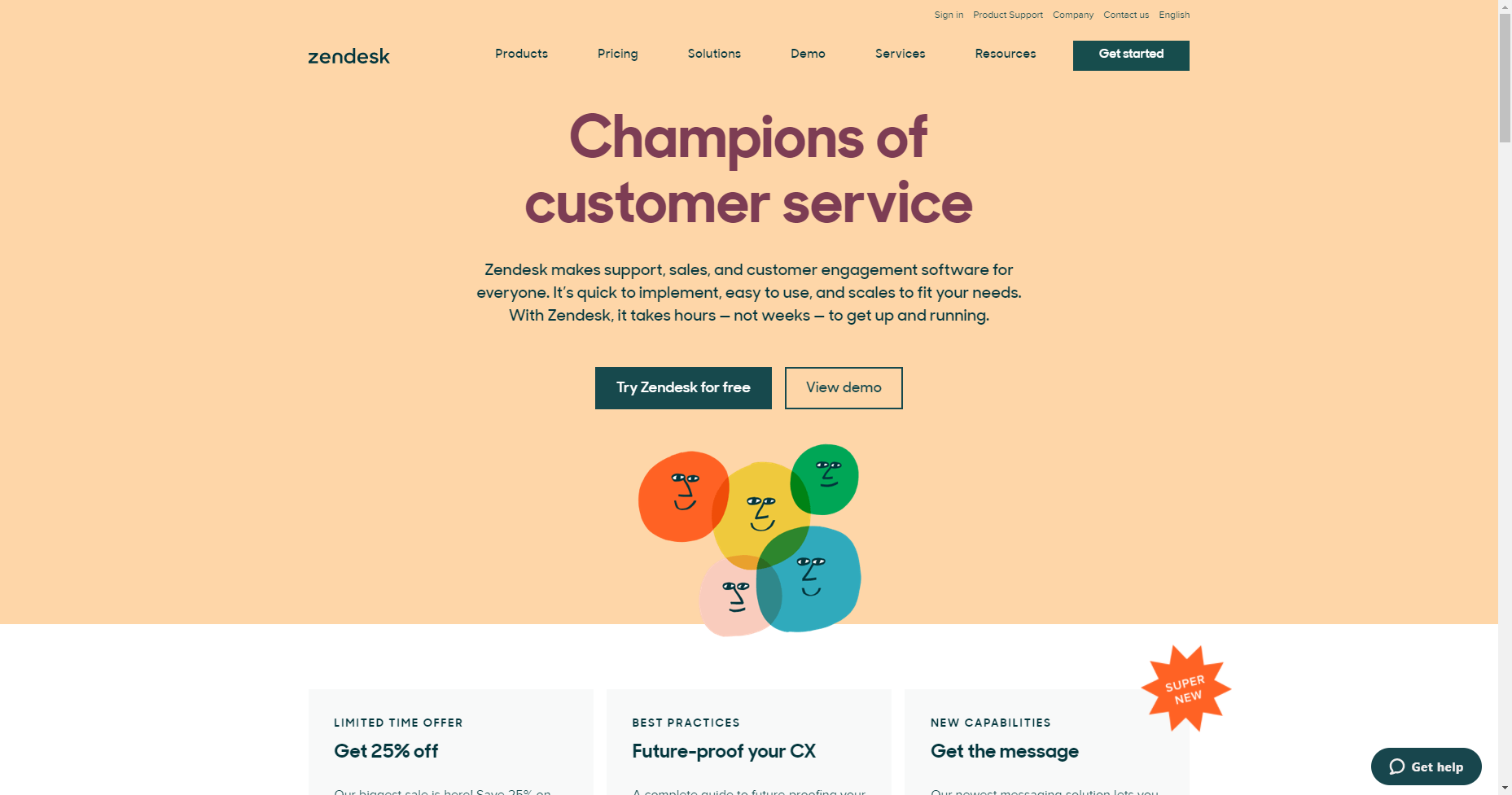 Zendesk is a customer interaction online software that is best for small enterprises and startups. A lot of customer support teams love Zendesk because it gives them the flexibility to manage their tickets through automation.
It is quick to implement and has everything you need to do to fulfill your needs. One of the biggest reasons to switch to Zendesk is that supporting your customers is very easy with this platform. No matter what platform they use, this online tool uses automation to facilitate client interactions.
Some of the key features of Zendesk are as follows:
Use bots to reply to recurring queries and send additional information to customers.
Empower cross teams by creating side conversations and sharing important customer insights. According to an assignment writing service, in-depth customer insights can help companies improve their product and services.
Redirect tickets to agents based on their skill set and expertise.
Zendesk Sunshine collects and stores all the customer data in one place.
It comes with a search feature that benefits both the customers and sales teams.
The free trial is available, while the fully packed features are available for packages that cost $5 to $199 per month.
Key takeaway 
Good customer support is the holy grail of any organization. We know that already, no matter if we are a manager or own businesses because we all are customers somehow. In this fierce competition, providing flawless customer service is not easy.
It is best to use updated online customer service support tools and be prepared to support your customers. The above-mentioned online customer service tools will make you faster and better.