Inefficient manufacturing processes and poor productivity can cost your firm more than you think. Poor manufacturing processes don't just eat into your profits they also damage business reputation and weaken customer trust.
This makes achieving operational excellence a critical goal for business leaders. Productivity in manufacturing setup is the key source of economic growth and competitiveness. Improving your firm's productivity lowers the unit cost of production, gives you a competitive advantage in global markets, and helps you generate higher margins and profit.
Here are a few strategies that can transform your business into a fine-tuned manufacturing set up, reduce costs, and improve the quality of your products.
Train and Educate Your Workforce
The manufacturing industry is face-paced and tech-driven. Innovation is a competitive edge that can help you get more customers on board. Your firm's process efficiency and brand image will suffer if our workforce isn't engaged and trained enough.
Employee training and workshops will not only make your workforce more proficient but also help retain them. Moreover, under the Occupational Safety and Health Act (OSHA), all manufacturing facilities are required to train employees to use new equipment and comply with the manufacturing standards to ensure workplace safety.
Offering adequate training gives everyone on the shop floor a good grasp of the operations and helps clarify operator roles. This ultimately helps the team follow the best practices closely and contribute towards improving productivity. Here are a few points to bear in mind when training employees.
Train your workforce on the process, the standard operating procedures (SOP), the machine operation, and the use of new technology or equipment.
Manufacturers of pharmaceuticals, nutraceuticals, cosmetics, and food products should share the good manufacturing practices (GMP) with their workforce.
Offer regular health and safety training. Further, inform employees of the consequences of not following the SOPs.
Build awareness of the compliance regulations by offering compliance training.
Train operators in regular maintenance and troubleshooting procedures. Also, share the dos and don'ts in an emergency and how to respond to them.
Implement Lean Manufacturing Practices
Several manufacturing wastes get ignored leading to an increase in costs and hurting the productivity and profitability of a manufacturing firm. The lean methodology aims at boosting productivity by reducing waste and non-value activities in a manufacturing set up.
Though lean practices don't only focus exclusively on waste reduction, factors like defects, overproduction, waiting due to poor supply management practices, poor utilization of talent, inventory excess, and excess processing can negatively impact your firm's yield. Count on lean manufacturing techniques like 5S, Value Stream Mapping, Kaizen, Just in Time (JIT), and Kanban to get the most out of every resource and optimize your manufacturing operations.
For instance, 5S (Sort, Set, Shine, Standardize, and Sustain) is a system that emphasizes cleanliness and organization in the workplace. Here's an interesting video that explains the 5S system in lean manufacturing.
Similarly, Kaizen is a tool for continuous improvement that allows manufacturers to document and manage procedures, take input and feedback from the workforce, and make powerful changes (eliminate, reduce, or change an unproductive activity) to improve manufacturing effectiveness.
Implement Agile Manufacturing
Manufacturing is a domain where conditions change quickly. For instance, unforeseen changes in customer demands and preferences can make it tough for manufacturers to respond quickly while maintaining the firm's productivity.
Embracing agile methodologies in product design or project management is perfect for such settings. Agile product management encourages an adaptive approach towards product planning and implementation, allowing manufacturers to quickly respond to feedback and build the best consumer-based product.
Though both lean and agile approaches aim at increasing manufacturing productivity, agile does it through flexible and parallel problem-solving.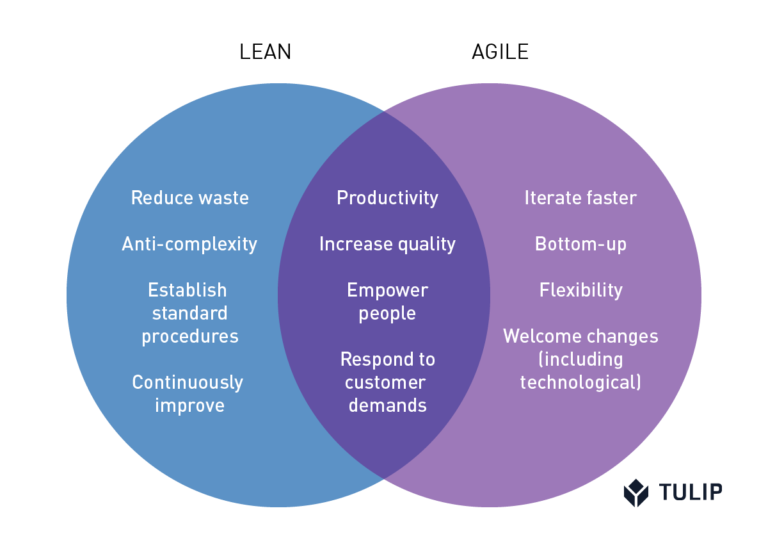 Source: https://tulip.co/resources/agile-manufacturing/#chapter_3
For instance, additive manufacturing firms can hugely benefit from agile manufacturing principles. The iterative cycles can be made shorter to accelerate designing, prototyping, and mass customization. So, if you have a product like jewelry that requires highly detailed and custom parts, the agile practices can help these firms to be flexible to the changing customer demands.
Agile can be applied to manufacturing operations in various industry segments, namely pharmaceuticals, IT equipment, automotive OEM, and FMCG. For instance, Dell, the American multinational computer technology company, uses the agile methodology to offer custom, to-order computers just for their customers.
Don't Undermine the Importance of Regular Maintenance 
Downtime, whether planned or unplanned, is the single largest source of lost manufacturing time for most businesses. Over the past three years, 82 percent of manufacturing firms have experienced unplanned downtime, costing them as much as $ 260,000 per hour.
Unplanned downtime is not just costly but also affects customer trust. Therefore, equipment maintenance should be an integral part of process efficiency. Predictive maintenance can help you proactively manage equipment failure that may otherwise interfere with the manufacturing operations. A Deloitte whitepaper shares that predictive maintenance can increase productivity by 25 percent, reduce breakdowns by 70 percent, and lower maintenance costs by 25 percent.
Almost all types of manufacturing setups can benefit from predictive maintenance. For instance, an automotive manufacturer can use it to detect failure onset when producing vehicle bodies. Similarly, construction equipment manufacturers can use explorative analysis and comprehensive visualization of repair protocols to monitor their machines and detect a failure in real-time.
Count on Technology
Automated technologies and new software solutions can help manufacturers in various areas of the production process, namely product management, shop floor scheduling, inventory management, and overall enterprise resource planning. For instance, AI and robotic process automation are being used by several firms to boost operational productivity.
Review your existing workflow and identify the areas that could use some updated processes or technologies. Invest in tech tools to improve areas that are bringing down your firm's productivity.
For instance, manufacturing time tracking is a critical factor that impacts productivity. Hence, using a time-tracking system like Hubstaff or TimeCamp can help optimize and automate work, ensure proper workflow management, and allow better resource management and allocation.
Regardless of the domain, tech-driven manufacturing tools allow manufacturers to optimize their production efficiency and quality. For instance, cosmetri is a cosmetics manufacturing software that can help large and small cosmetics with inventory tracking, lot traceability, formula management, quality assurance, and compliance management, allowing them to come up with top-quality products that are safe for human use.
Similarly, BatchMaster ERP offers process manufacturing software solutions for the food, chemical, and pharmaceutical industries.
When considering a new technology or tool, keep an eye on the total cost of ownership and its effect on your business's bottom line. A high initial cost of technology or a software solution is justified as long as it clears the common manufacturing bottlenecks and improves the productivity of your setup.
Summing Up 
It's a known fact that working towards improving manufacturing productivity can cut costs, improve throughput, and ultimately boost revenue. To set the stage for manufacturing productivity, business leaders need to build a thriving workforce and embrace technology. This can significantly speed up production and eliminate time-wasting processes.
However, working towards boosting productivity is an ongoing process. Consistently apply the best practices shared above into your day-to-day operations to reduce the downtime and gain an edge over your competitors.
Do you know of any other best practices to boost manufacturing productivity? Let us know in the comments section below!