If there's one major change the pandemic has brought about (other than disrupting our normal way of life!), it's our growing appreciation for the remote way of life. Businesses have experienced the various benefits of having a virtual team. No wonder, most businesses plan to continue with the remote work culture.
A recent survey revealed that 77 percent of human capital executives expect the remote trend to continue after the pandemic. Another Gartner survey of the 127 company leaders revealed that 82 percent of the respondents intend to permit remote working some of the time. Nearly half said they plan to allow employees to work remotely full time going forward.
But the remote work culture does not come without its challenges. Right from effectively managing the virtual team to improving team productivity, there's a lot to cater to. If you have decided to stay with the remote working trend, this post offers tips on how business leaders can get the best out of it.
#1. Have a Clear Remote Work Policy in Place
Transitioning from the brick-and-mortar office to the remote way of working calls for a fresh set of work policies. Defining them early on sets the expectations and promotes a positive work culture.
Your remote-work policy should touch upon the following areas –
Employee Availability – Though flexibility is one of the benefits of going remote, it's critical to inform your remote team about the availability expectations. Whether it's instating a standard 9 am to 6 pm work day or allowing the team to be available for a certain number of hours a day, make sure you include this in the remote work policy. This will avoid confusion, indiscipline, or any possible frustration.
Responsiveness – Define the response time and specify the mode of communication. The idea is to promote a healthy communication and coordination among the team members (not to micromanage people!).
Success Parameters – Let your virtual team know how their performance and productivity will be measured.
Tech Tools and Equipment– The team should be informed on the tools that will be used for work-related communication and collaboration. Further, you need to specify if the employee is expected to use their own device. It's also a good idea to include security best practices as a part of this policy.
Besides, make sure to review your remote hiring and onboarding policies. Right from the roles and responsibilities to the soft and hard skills required for a specific job, you need to define everything.
#2. Get Your ROWE Mindset On 
ROWE stands for results-only work environment! As an owner of a remote startup, you may be tempted to micro-manage your remote team of managers and their respective team. But micromanaging is detrimental to business success. Further, this negative practice will percolate through the team through your managers, affecting everyone's morale and efficiency.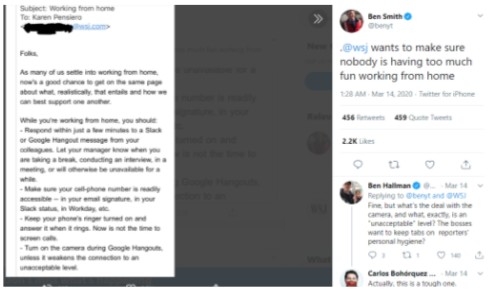 Check out this email sent by a WSJ manager to their newly-remote team. It went viral on Twitter and attracted a lot of negative publicity for the brand.
Micromanaging can ruin remote working and show your company culture in poor light. Instead of tracking the number of hours they've put in, assess virtual employees based on the objectives they've achieved.
Having said that, it's critical to hold your remote team accountable. Share priorities and expectations clearly and define the parameters of success. Trust the team to use innovative ways to achieve business objectives. You'll be surprised how simply trusting your team can build accountability and motivate team members to perform better.
#3. Play to Your Team's Strengths
The remote way of working allows businesses to hire the top talent in the nation or even across the globe. Make sure you take advantage of the strengths of such a diverse team. Hire the right people to create a top-notch remote workforce that takes you closer to your business objectives and gives you a competitive edge. Understand each one's strengths and weaknesses to predict potential roadblocks and leverage their strengths.
Further, when going remote, you may consider hiring new team members across various geographies. A remote workforce is less expensive than an in-house one. Invest a part of these savings to train your existing remote employees and hone their skills.
#4. Count on Technology
Scaling a startup while managing a virtual team demands a lot of grunt work. However, you can ease your burden and boost your productivity by investing in the right tools.
For instance, time-tracking tools like Time Doctor and RescueTime can help you track your remote team's progress and improve overall productivity. Here are a few other tools that remote business leaders can count on.
Trello/ Asana/ monday – Awesome collaboration tools that allows you to track work progress of your distributed team.
Another collaboration tool called Status Hero can help all the remote team members see what everyone's working on, thus improving team bonding and work efficiency.
Skype/ Slack – These tools are most recommended for team meetings, job interviews, and routine work calls.
Zoom/ Google Meet – These video conferencing tools help distributed workforces connect and collaborate.
Serene – A tool that cuts out distractions. You may recommend this tool to your employees to help them manage the common distractions encountered when working from home.
Investing in tech tools like cloud-based tools, CRM software, and tools for B2B integration can help you stay organized while reducing the operating costs.
#5. Minimize the Risk of Burnouts
The remote way of working can make it tough for your team (and you!) to focus on health and fitness. Plus, remote workers tend to overwork, leading to job burnout and negatively affecting their productivity.
A healthy team is good for business. It means fewer absences, improved morale and productivity, and a healthier bottom line. Therefore, it's important to drive a health-conscious remote culture that positively impacts the lives of your remote workforce and the business productivity. Here are a few quick tips to uphold your virtual team's health and happiness.
Drive a Fitness-Conscious Culture
One of the best ways to encourage your team to follow a healthy lifestyle is by inspiring them to do so. Lead by example and show them how you workout and stay fit at home.
As the pandemic continues to threaten lives, everyone's skeptical about going to the gym. Encourage people to set up a fitness corner at home, allowing them to work out from the comfort of their homes.
What's more? You can also set up a weekly walking challenge, asking your team to share the kilometers covered. Encourage them to set health goals and reward the ones achieving them.
Another way of inspiring the team to stay fit is by sharing fitness stories of other team members. For instance, a remote employee has created a dedicated workout space, ask them to speak about their experience and how they plan to stay fit. Share pictures or videos of the equipment they've purchased or the safety rubber surfacing installed in their home gym.
Sharing such experiences will not just inspire other team members but also give them new ideas to stay active.
Encourage People to Take Quick Stretch Breaks
Despite the convenience and flexibility it offers, remote working can be exhausting. Therefore, it's wise to encourage your virtual team to take frequent microbreaks from the screen to stretch their limbs and get some fresh air (at least once in two hours).  In fact, a paper by the Stanford University recommends taking frequent such breaks to reduce ergonomic injuries and boost productivity.
Plan a Virtual Group Workout Activity 
Getting the team together on a Zoom or Google Meet call to work out together can help your virtual team to stay health conscious. You can also sponsor an after-work or weekend fitness session to make the process fun.
Summing Up
Remote working is great for employers and employees alike. It boosts employee morale and productivity. Further, businesses gain  access to a wider and talented pool of people, regardless of their location. But transitioning to the remote way of working comes with its own set of challenges.
Startup owners have a lot on their plate. The last thing they want is their decision to go remote to backfire. If you are planning to stay with the remote working trends, the tips shared in this post will help you build a strong remote workforce that will put your new venture on the fast track to success.